The LMS curriculum and campus presents unique opportunities for all of the students here to experience the gift of spending time outdoors. Students play, work, explore and learn within our outdoor classrooms, our playgrounds, and the LMS 19 acres. Our use of the outdoor spaces at LMS, like nature itself, has evolved over time and has allowed us to recommit to the LMS mission of self-discovery through purposeful learning.
19 Acres
In 2018, LMS purchased 19 acres of woods, streams, wetlands, and an athletic field. Our campus has a total of 23 acres for students to explore. LMS teachers consistently find creative ways to use the land; bringing work outdoors, taking students hiking and on nature walks, and planning science, engineering, art and math lessons using the natural elements of our environment.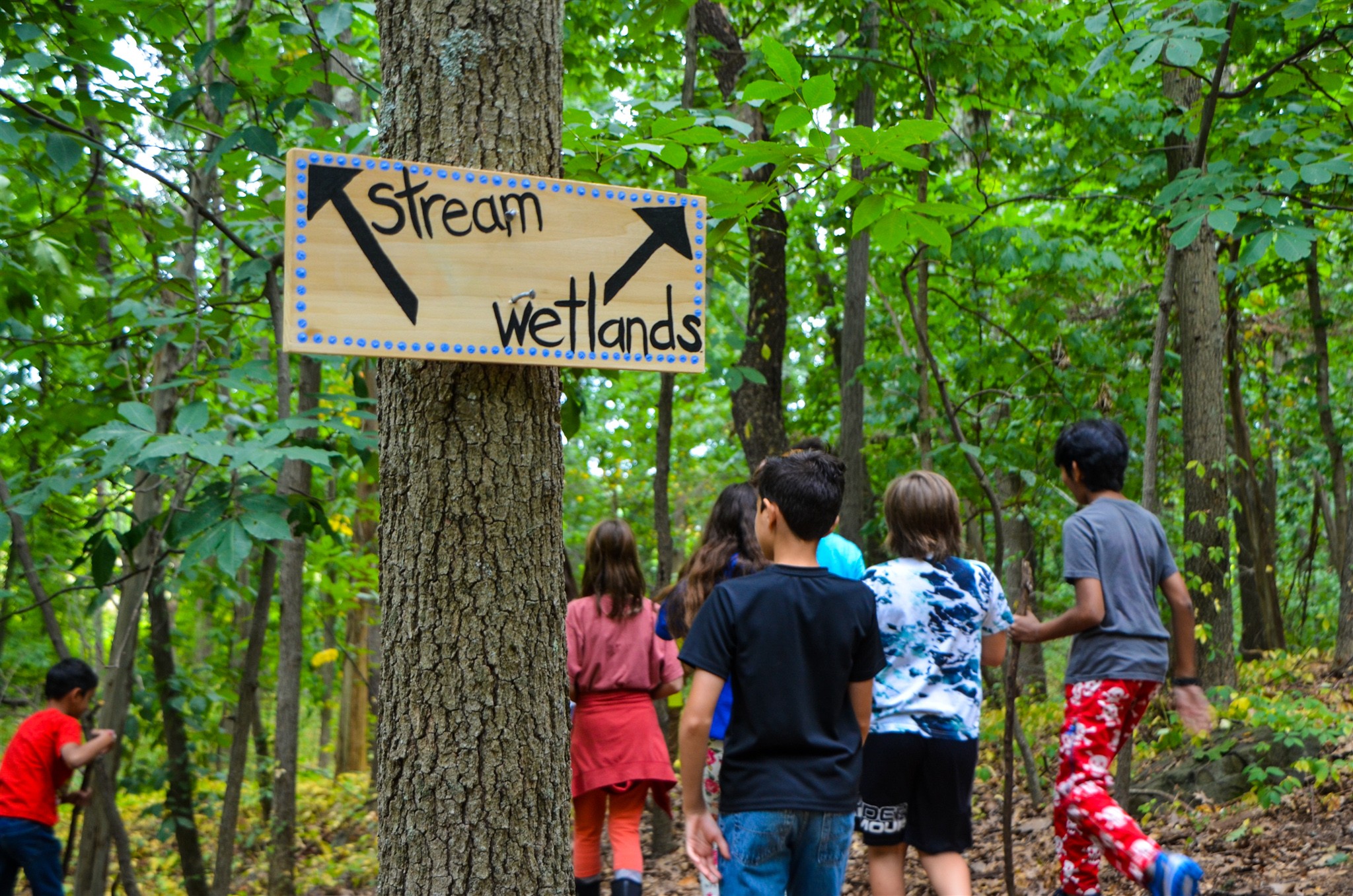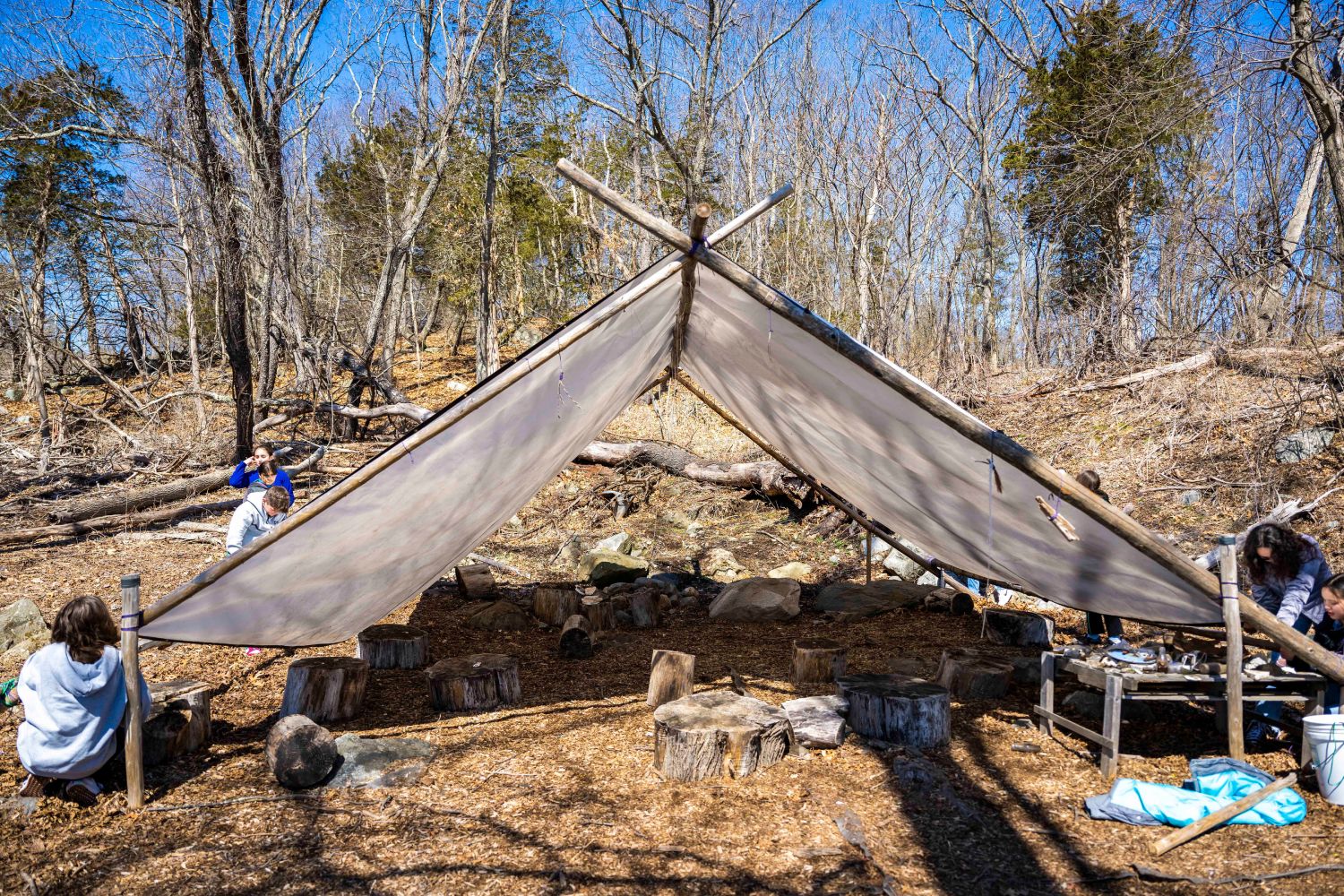 A-Frame
LMS Middle School students built an A-Frame structure on the 19 acres. All students benefit from this space and LMS teachers utilize the A-Frame as a meeting space and for group lessons.
Farming
The LMS Farming program engages students in all aspects of running a successful farm. Student farmers participate in a cross-section of all farm activities including seed starting, potting up seedlings, planting, weeding and pest management, watering, composting and soil building, harvesting, and distributing and selling the produce to the wider community. Farming sales and fundraising efforts help to ensure students are connected with the real-world economics of running a farm while helping to support the program itself. The LMS Farming program provides a natural platform for practical life skills and global citizenship.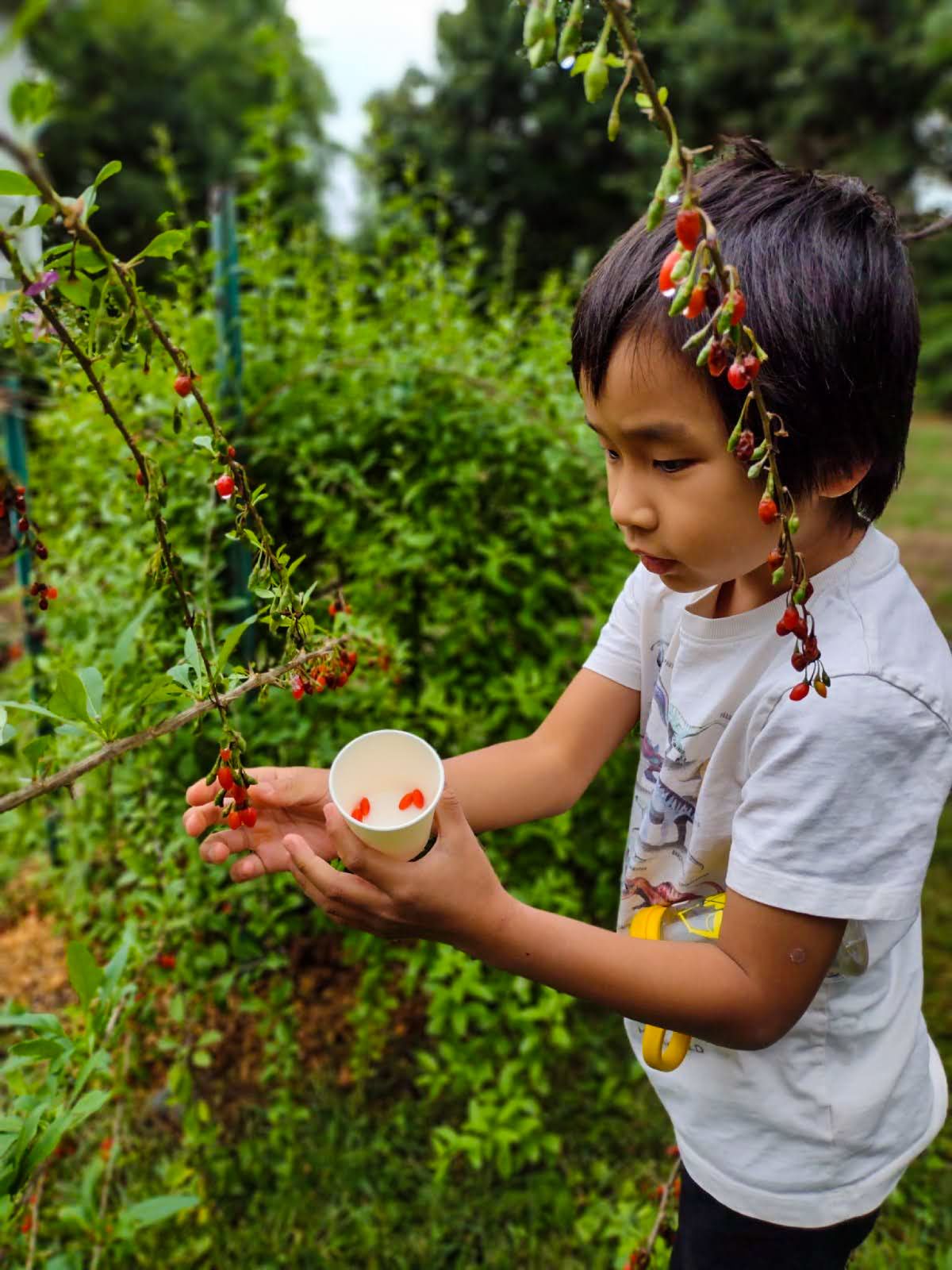 Food Forest
Our Food Forest began in 2019. Inspired by lessons learned from the natural world, crops are planted above and below one another creating multi-layered gardens. Fruit trees, persimmon and pear, were the first step in this process. Students then planted a variety of perennials: (shrub layer) blueberry, currant; (vines) hardy kiwi, grape; (flowers) daffodils, daylilies, Queen Anne's lace, butterfly weed, asters; (herbs) oregano, dill, parsley, scallions, chives, comfrey, yarrow, thyme, mountain mint, wild ginger, fennel, lemon balm; (roots) horseradish; and (ground cover) strawberry.
Greenhouse
During our LMS Earth Day celebration in 2015, we unveiled our 26' growing dome. As part of our commitment toward environmental sustainability, our greenhouse has become an essential expression of our dedication toward creating positive change in our global, interconnected world. Beginning in our Toddler program students work in the greenhouse each week during their weekly Farming classes.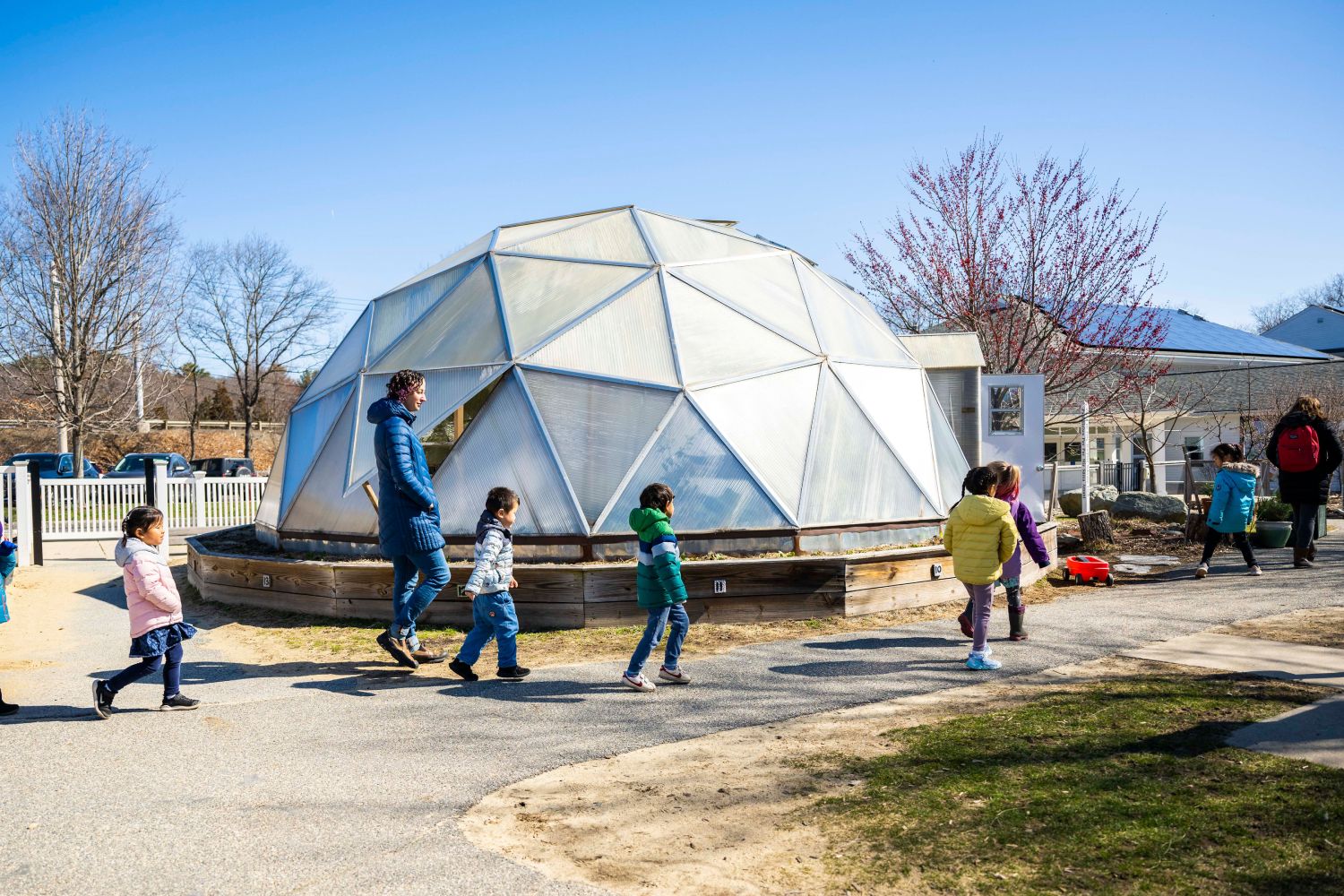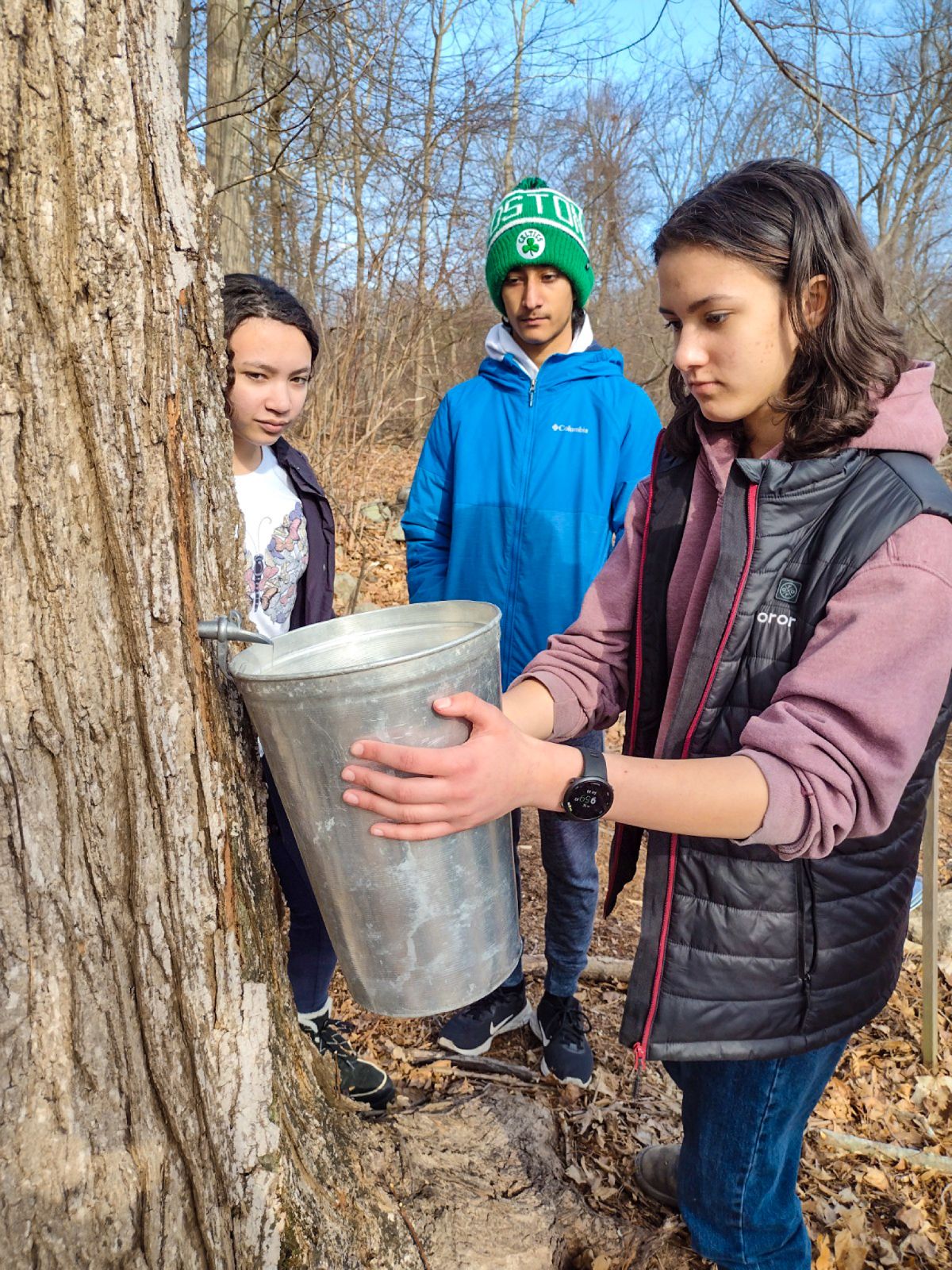 Maple Tree Taps
In 2023, our maple tapping operation began. Middle school farmers set up the system and students from Toddler through Middle School take turns collecting (and tasting!) the sap fresh from the trees on our campus.
Outdoor Education Field Studies
Students in Elementary and Middle School participate in outdoor education field studies. Lower Elementary students visit Nature's Classroom for three days and two nights each spring. Students focus on environmental science, social-emotional learning and adventure education.
In Upper Elementary, students visit the Hulbert Center in Fairlee, VT each fall. For three days and two nights, LMS students work on leadership skills, teambuilding, personal challenges, natural history and outdoor skills development.
In Middle School, students explore with Kroka Expeditions in Marlow, New Hampshire. This three day, two night wilderness experience includes farm chores, canoeing, rock climbing, swimming, cooking over an open fire, community building games, and service projects.